Cold and flu season is upon us. Yes, even here in sunny Florida. However, we have been blessed over the last few years with only minor battles with illness. While everyone around us is suffering with sore throats, runny noses, stuffy heads, body aches, chills, coughs, and fevers, our family sneezes a couple of times, blows our noses and moves on without so much as a single antibiotic.
Why don't we suffer through the usual epidemic creepy crud with the rest of the masses? I have no idea.
Maybe it's our balanced diet. Maybe it's our unusual lifestyle. Maybe it's the fact that no one in the house has taken an antibiotic in years. Maybe it's the amount of herbs I add to our food. Maybe we simply get enough rest and fluids when we start feeling run down. Who know? What I do know is that with cold and flu viruses getting tougher and tougher each year, our luck can't hold out forever!
This year we're adding a daily dose of elderberry syrup to our disease-fighting routine, which currently includes a daily multi-vitamin and the occasional cup of Echinacea tea.
Yes, that's all we do to guard against colds and flus. Did I not say that I am clueless how we escape serious illness every year?
Anyway, we are adding Elderberry Syrup to our routine. According to
Purdue University
, "Elderberry fruits are an excellent source of anthocyanins, vitamins A and C and a good source of calcium, iron and vitamin B6. They also contain sterols, tannins, and essential oils and can readily be considered a healthy food… Elderberry total antioxidant capacity is one of the highest of all the small fruits." In other words, elderberries contain a lot of what the body needs to maintain a strong immune system.
Elderberry syrup can be used to prevent illnesses or taken while you're sick to ease symptoms. In fact,
Studies have found that elderberry eases flu symptoms like fever, headache, sore throat, fatigue, cough, and body ache. The benefits seem to be greatest when started within 24 to 48 hours after the symptoms begin. One study found that elderberry could cut the duration of flu symptoms by more than 50%.
This elderberry syrup recipe is one of many floating around the internet these days. I chose this one because the added honey, cinnamon, and cloves have wonderful immune system boosting properties as well. You can also add some grated fresh ginger, too. I didn't. I'm pretty sure only my husband would take it if I added the ginger!
Take 1 teaspoon daily as a preventative when healthy. To fight Colds, Flus, Sore Throats, Body Aches, and Fevers take 1 tablespoon 4 times a day when sick.
1/2 cup dried elderberries
2 cinnamon stick
5 whole cloves
1 tablespoon grated fresh ginger
2 cups water
1 cup honey
Add berries, cinnamon, cloves, ginger and water to a medium stainless steel saucepan. Cover and bring to boil over medium-high heat. Uncover, reduce heat and simmer until liquid reduces in half, about 30 minutes. Strain mixture into a bowl, pressing with the back of a spoon to get juice out. Add honey and stir well. Store in closed jar in fridge for up to 3 months.
This is one medicine that you won't have to hold your nose to take! It tastes like the flavored honey sticks that we get from the Fair.
For an added boost, stir your daily dose into a cup of Echinacea tea. Your insides will love you for it!!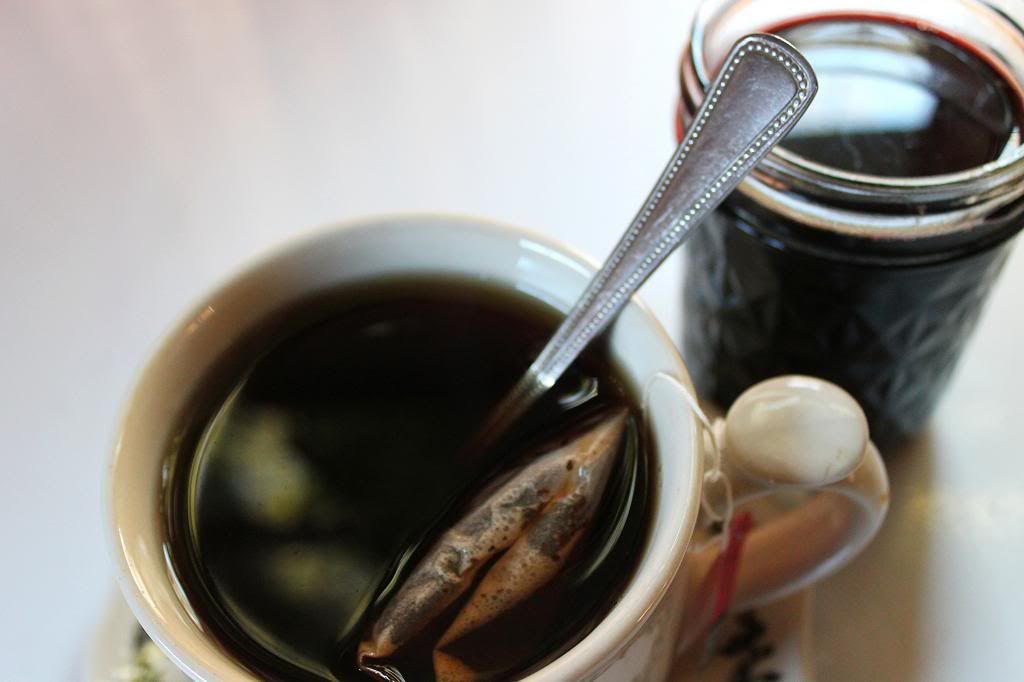 By the way, you can also make an Elderberry Tincture using dried elderberries and 100-proof vodka. I'm not an alcohol prude by any means. Goodness knows I love a good sippin' whiskey now and then. However, I'm not fond of the idea of a daily dose of vodka! If I make the tincture, it'll be for treating the illness only and not for prevention, and I'll probably use brandy or rum instead of vodka. Vodka is on par with rubbing alcohol in my opinion.
Thanks for stopping by! It has truly been by God's grace that our family has avoided major illnesses these past few years. We pray for good health a lot! I'll be praying for all of you as well. I pray that you only need one box of tissues this cold and flu season…and that you don't even use them all!
Grace and peace be yours in abundance,