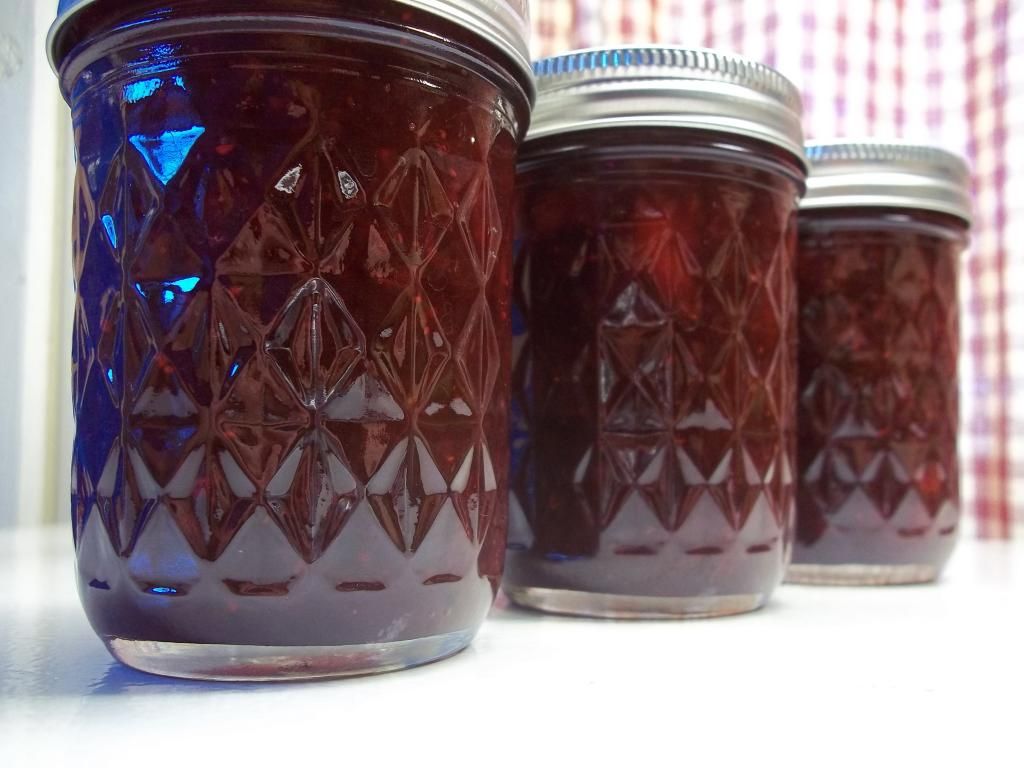 You've probably heard me whine more than a time or two about my lack of gift-giving ability. I have an idea of what to buy for someone and maybe even a list, but as soon as I get to the store my brain turns to mush. I start second guessing everything, or I simply forget everything, or I realize that my great ideas are way out of my budget. I also don't like giving dollar store dust collectors that are destined for next summer's yard sale just to be able to have a gift for someone that's still in the budget.
Over the years, I've learn to turn to homemade gifts that appeal to both my frugal side and my practical side. Sometimes I'm good at getting started on making Christmas gifts in July. Sometimes I don't. This year, I didn't even have a plan until November! I know. Shame on me! However, a late start doesn't mean I'm out of the race. I just have to be smart with my gift choices and with budgeting my time.
Homemade jams are always good choices for gifts, especially if you're short on time. Most jam recipes can be done in an hour or less, two if you're still fairly new to canning. Add a few cookies or some homemade rolls, and you have a wonderfully personal gift for friends and neighbors. If you're crafty, you can also add a homemade ornament to the bag for an even more special touch.
Anyway, this year, I'm making Christmas Jam and Carrot Cake Jam. A single batch of each jam will give me about two dozen half-pint jars total to give as gifts, and the ingredients are readily available and not off the chart expensive. Most of our friends actually look forward to seeing what's in their basket each year!
Strawberry Jam gets a Christmas makeover with cranberries!
6 cups sugar, separated
2 packages low-sugar powdered pectin or 6 tablespoons bulk low-sugar pectin
2 pounds cleaned, hulled, fresh strawberries or thawed frozen strawberries
2 pounds washed and sorted cranberries, fresh or frozen
½ teaspoon butter
Prepare canner jars and lids.
Measure sugar into a large bowl. In a small bowl, mix ½ cup of the measured sugar with the pectin. Set aside.
Place strawberries and cranberries in a food process and pulse until chopped or chop by hand. Place the fruit in a large, stainless steel Dutch oven. Stir in pectin mixture. Bring to a boil over high heat, stirring constantly. Add butter. Add sugar all at once, stirring constantly. Return to a full rolling boil. Boil hard for 3 minutes, stirring constantly. Remove from heat. Skim off foam.
Ladle hot jam into hot jars, leaving ¼ inch headspace. Remove air bubbles. Wipe rim. Center the lid on the jar, and twist ring onto jar until tight. Be careful not to over tighten.
Place jars in water bath canner. Jars must be completely covered with water. Bring to a boil and process for 10 minutes. Remove lid, and wait 5 minutes. Remove jars, cool, and store. Makes about 14 half-pint jars.
Thanks for stopping by! My friend April and I made a batch of Christmas Jam the other day and in spite of all of our gabbing distracting us from our work, we were still done in an hour. Using frozen strawberries that I put up back during strawberry season really cut down on the work. If you don't have any already, frozen strawberries are readily available in the frozen food section of most grocery stores. When it comes to making jam or wine, I prefer using frozen strawberries because they're so juicy! Don't forget to dress up your jars with a bit of ribbon and a tag!
Grace and peace be yours in abundance,