For a crop that started out slow, with only about half of the seeds germinating on the first planting, the green beans are definitely making up for lost time. They are coming in fast and furious! Usually, we just eat the beans as fast as they mature. Not this time! I'm picking a pound or two every day.
Even though I'd rather stockpile the beans for a day or two and can them, my hubby and kids aren't fans of canned green beans. Neither am I for that matter. I just prefer methods of preservation that are shelf stable and don't need power once the food is preserved. However, the idea is not only to save the beans to eat later, but also to eat the beans. A shelf full of canned food is useless if no one eats it!
So, every couple of days I heat up a pot of water, fill a bowl with ice water, and set about blanching and freezing our excess green beans. Preparing most veggies for the freezer really is simple. I can usually put up two to three pounds in about 20 minutes, and the only reason it takes me that long is because I'm never in a hurry. I'm pretty laid back at home and try never to miss an opportunity to smell the roses, which means I'm easily distracted by my kitchen window. In other words, you'll probably be done even faster.
Items needed:
Fresh green beans
Sharp knife
Large pot of boiling water
Large bowl of ice water
Slotted spoon
Freezer-quality zipper-seal plastic bags
Wash and drain your beans. Remember, even organic produce needs washing. The words "farm fresh" and "organic" do not mean dirt and germ free. Even if you've picked the beans from your own garden, you need to wash it. You have no idea how many critters ran through your garden when you weren't looking!
Trim the stem end with a sharp knife. If the beans are really fresh, you can just snap the end off with your fingers. You can leave the blossom end on (pointy end), if desired. I trim it off. I have absolutely no reason for doing this. I just like to.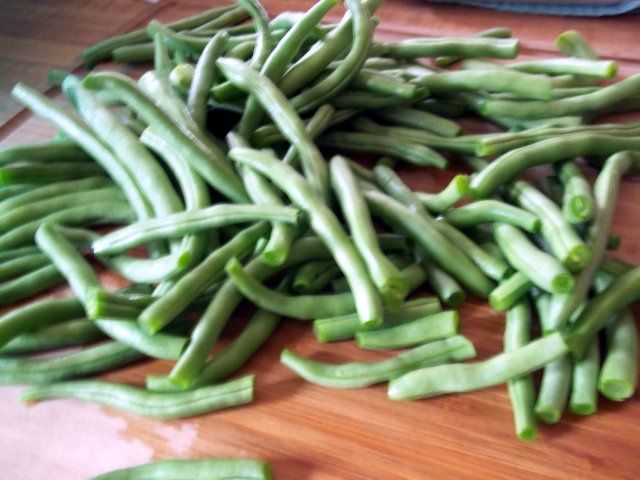 Working in batches, place beans in a pot of boiling water for 3 minutes. Make sure the water is boiling before you put the beans in the pot. We're just blanching the beans to kill the enzymes that promote decomposition, not cooking them.
Using a slotting spoon, transfer the beans to a large bowl filled with ice and cold water. This stops the cooking process. Keep beans submerged until they are no longer warm to the touch.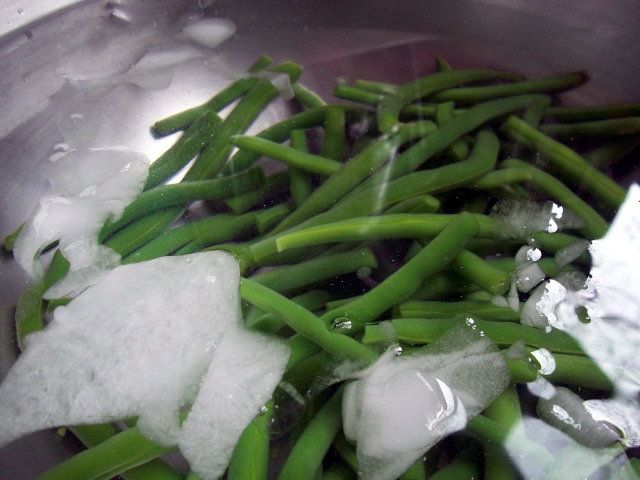 Drain, and pack into labeled freezer bags, and place into your freezer. Yep, it's that easy. By the way, quart-sized bags hold one pound of green beans perfectly.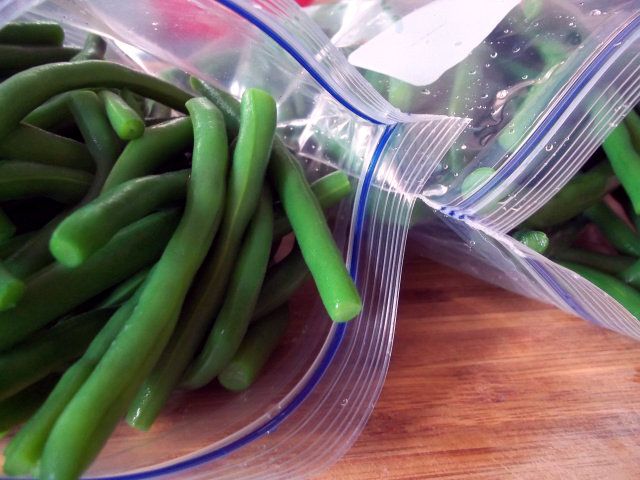 Thanks for stopping by! If you're not in the South, you probably don't have much in your garden right now. However, between now and the end of the year, many stores and produce stands have fresh green beans at very low prices because of the popularity of green beans at holiday meals. Take advantage of those sales! Buy extra and freeze them. You see how easy it is. I am certain you can fit freezing a few pounds of green beans into even the busiest holiday schedule.
Grace and peace be yours in abundance,