A couple of years ago when Linens N Things were going out of business, I seriously coveted a beautiful set of heavy-duty stainless steel cookware. I think the set really appealed to me because all of the pieces matched and none of the handles or lids were broken. I worked nearby and would wander into the store regularly, sighing over the shiny perfection that I knew would someday be mine.
Have you noticed that "Going Out of Business" sales don't offer real deals on the good stuff? The sale went on for weeks, with only a measly 10% off of the cookware. If I could afford that, I would have bought the set before the store went under and used one of their weekly 20% off coupons! Sadly, by the time the company offered a decent discount, the set was gone. Sigh.
Around this same time, we were blessed with an abundance of traveling and camping opportunities. A few years before, hubby and I had stumbled across a wonderful clearance sale on an entire set of cast iron cookware, which I stored with the camping gear.
During that camping season, I realized just how much I enjoy cooking with cast iron. Although the pots and pans take a few minutes to heat up, they retain heat very well, spreading it out evenly across the cooking surface. Also, food rarely sticks to a well-seasoned piece of cast iron and clean up is a breeze!
I never did get that shiny new set of stainless steel cookware. Instead, that set of cast iron cookware moved from the camping closet to the kitchen, permanently. My cookware still isn't the prettiest, but boy, is it fun to cook with, especially in the summertime!
We live in one of the few Florida homes that do not have central air conditioning. The house is organized so strangely that just about every A/C person that looks at it says we need two units to cool the whole house. The house really isn't big at all. It's just a crazily laid out five-story-ish split level. But I digress. Suffice it to say that cooling this house in the summertime when the daily temperature and humidity are both in the high nineties is a bit of a challenge. Therefore, I try not to heat it up in the first place, which means I try to cook as much as possible outside. Cast iron is very handy for cooking outside!
A cast iron Dutch oven is one of the handiest pieces for cooking outside. Most soups, stews, casseroles, meats and even desserts can be baked in a Dutch oven, using the right amount of charcoal briquettes. The trick is knowing how many coals to place under the oven and how many to place on the lid. This handy chart should help.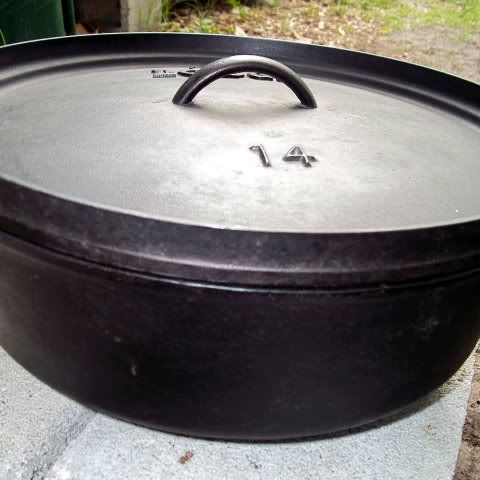 Cast Iron Dutch or Camp Oven with Lid. Make sure the lid has a ridge around the edge. An oven that has legs is handy but not necessary. My three-legged oven and my flat-bottomed oven heat food equally well.
Charcoal Starter Chimney. Using charcoal lighter fluid causes the coals to burn faster. Switch to a chimney to start your charcoal. It's quick, easy, and reliable. Place a wadded piece of newspaper under the chimney and your coal on top. Light the paper. You'll have hot coals in no time.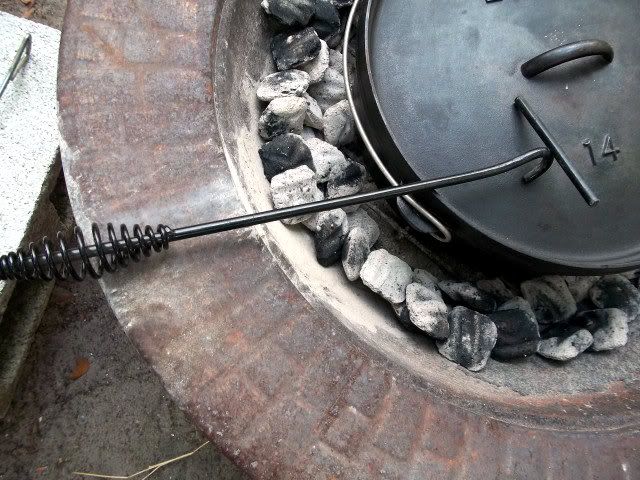 Lid Lifter. That lid and oven get pretty hot. The lid lifter makes rotating the lid and oven and checking on the food a lot easier and a lot safer for your hands.
Lid Stand. The lid stand keeps the inside of the lid clean when you're checking on and stirring the food. The lid stand also comes in handy when stacking your ovens and the top one doesn't have legs.
Welding Gloves.
Although I've been doing just fine with the lid lifter, these gloves are on my wish list! It gets a little challenging to carry a Dutch oven full of food with just the lifter. Welding or grilling gloves protect your hands so you can grasp the handle better.


Charcoal. Just about any type of charcoal will work. I happen to use Kingsford because my husband is very good at finding the Buy One Get One Free deals and keeps me well-stocked.
Long-Handled Tongs. You will use a pair of long-handled tongs to move the charcoal briquettes.
Miscellaneous Kitchen or Grilling Utensils. For the most part, you'll need your usual cooking utensils. However, long-handled utensils will work best for stirring food cooking over the hot coals.
Fire Proof Cooking Area. A grill, a fire pit, or a camp oven cooking table will work just fine. I've done this in a fire pit directly on the ground while camping and in a metal fire pit in the backyard. Any place that you can safely spread hot coals is a safe place to cook with this method.
Place one-third of the coals in a random ring pattern on your cooking surface.
Set the oven (filled with food, of course) over the bottom coals.
Using a lid lifter, rotate the lid clockwise and the oven counter-clockwise one-quarter turn every 15 minutes, eliminating hot spots.
The coals should last about an hour. Use your chimney on a fire-proof surface to ready more coals, if necessary.
Ovens can also be stacked. Place the proper amount of coals directly under the top oven, spreading the extras out to the edge of the lid of the bottom oven. The bottom oven in the picture is baking Cowboy Beef and Beans, which takes longer than the cornbread that's in the top oven. Obviously, you stack the smaller oven on top of the larger oven for stability.
My two favorite books for learning the in's and out's of cooking outside with my cast iron ovens are:
Camp Dutch Oven Cooking 101
is a simple, straight-forward guide to cooking with cast iron. Personally, I love the dessert recipes in the back. Then again, I'm one of those people who believes that it's not dinner if there's no dessert. Just sayin'.
Recipes for Roughing It Easy
might be a little more difficult to find, but definitely worth the trouble. Author Dian Thomas is a mom to quite a few boys who loved scouting. She shares all of the wisdom she gained over her family's many years in Boy Scouts. Her recipes are kid-tested and approved and many are just plain fun!
Thanks for stopping by! Whether you're trying to cook more meals outside this summer or heading out for some serious camping, I hope this guide is helpful. Don't forget about the print-friendly button at the bottom of the post. I love that button. You can delete any parts of the post that you don't need!
Grace and peace be yours in abundance,

PS. Oh, and for those of you who don't like how heavy cast iron is, think of it this way: You don't have to do your upper body strength training workouts when you cook with your cast iron!