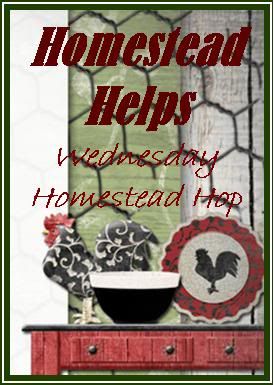 Welcome to the
very first
Homestead Helps Wednesday Homestead Hop, a blog hop dedicated to the homesteading way of life. Whether you're homesteading on a 40 acre farm in rural America or in a fourth floor apartment in the middle of an urban jungle, you could probably use a little help with something, and you've probably got a little help to share.
Homestead Helps is about helping each other consume less, produce more, and live simply. Posts about gardening (both in the ground or in containers), preserving the harvest, raising animals, frugal living, cooking from scratch, textile arts like sewing or knitting, recycling, repurposing, and upcycling, homemaking and home management are all welcome and appreciated! Did you just harvest your first tomato? We'd love to hear about it! New chicks? Don't forget the pictures! Did you learn the best way
not
to do something? Share that, too! I think you get the idea.
Join In!
Create a "Homestead Helps" post on your own blog. Then come back here to add your post to the linky box below. Please, link to specific posts and not to your blog's home page.
Each week, I'll choose a post or two to feature during the next week's link-up.
Don't have a blog? Feel free to add a comment here with helpful homesteading stories and tips!
Now for just a few simple guidelines to make sure this is a useful and enjoyable experience for everyone:
1.
Please, remember that this is a family-friendly site
. No inappropriate content, please!
2.
Please, link your posts back to this one.
This is a common blog hop courtesy and helps build our online homesteading community. When your readers hop back here, they can read the other participants' post, too. We all end up sharing, learning, and helping from each other.
3.
Please, visit a few of the other links.
This is another common blog hop courtesy. While you're visiting, be sure to leave a comment, letting the blog owner know you stopped by. Just because many of us wouldn't mind living in a barn, me included, doesn't mean we have to act like we were born in one.
4.
No giveaway or other advertising-oriented posts.
This hop is for sharing useful information, not free advertising. So, keep your links to posts involving homesteading topics
Thanks for stopping by! I'm always nervous about doing something like this. It's that whole throwing a party and nobody comes thing. So, please, leave a link so we can take the party to your blog for a little bit!
Grace and peace be yours in abundance
,
Betty