A couple of weeks ago, a dear friend Jackie shared
an interesting link
on Facebook about re-growing celery from the bottom of the stalk. I'd heard of this before but never tried it. Well, Jackie threw that challenge out, so I had to try. This is just about the coolest gardening trick ever!!
We eat a lot of celery around here. Celery sticks with or without peanut butter are favorite snacks, not to mention that diced celery tops the list of ingredients for most of my dinner recipes.
Unfortunately, celery is not an easy crop to grow. It requires 120 days of cool weather and lots and lots of water. Cool weather and rainfall do not generally occur simultaneously here in Central Florida. Oh, we get the occasional rain here in fall and winter, but for the most part, it's pretty dry.
You can imagine my delight when I learned that I can grow celery in a fraction of the time! Less time also means less water! Score!
Preparing the stalks for planting was just a normal part of our produce purchasing day. When we bring our produce home, everything gets washed immediately. However, some fruits and veggies get a little more attention, like celery. While I'm washing everything, one of my hubby's tasks is to cut up all of the celery into 4-inch pieces, handy for snacking or dicing for dinners. The tops end up in the dehydrator and the bottoms in the chicken coop. This experiment meant the chickens wouldn't get their weekly celery snack. Since they've been getting plenty of cabbage leaves and turnip tops, I think they'll live.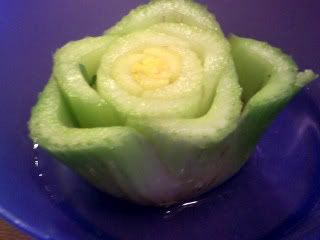 Hubby and I ended up planting six stalk bottoms altogether. The first set of three only soaked in water for an hour or two before being planted in a grow bucket. The second set of three sat in water for a day or two.
Can you believe everything sprouted?! Because of the extra soaking time, the second set sprouted faster, but everything is growing nicely. Growing them in the buckets will also help us conserve water.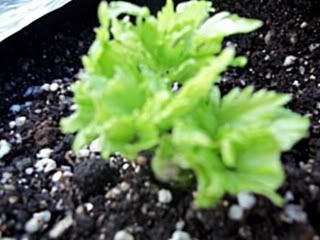 The plants have only been growing for about a week or two and still have a long ways to go, but I'm looking forward to watching them grow and crunching on a celery rib or two right from my backyard!
If this actually works, watch for a post over the summer about growing celery indoors. When the temperatures starts to rise in the summer, we'll move those buckets indoors. I love a good agricultural experiment, don't you?
Thanks for stopping by! Have you tried growing celery before? How'd did it turn out? Was it crisp and sweet or did it turn bitter? Did it take forever, or at least felt like it took forever? I'd love to hear your story!
Grace and peace be yours in abundance,