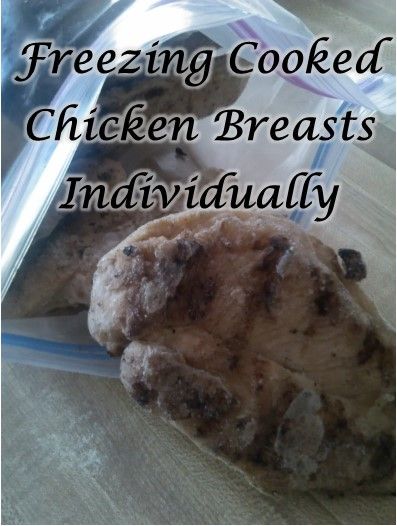 We eat a lot of salads around here, especially in the summer. A salad is light and refreshing and very cooling on a hot day. A salad also doesn't require any cooking…unless you like some kind of meat on your salad like we do.
Don't get me wrong. I love to cook. I just don't like heat. There are days when I'd rather starve than stand in a hot kitchen or in front of a hot grill outside in the hot backyard. Plus, if I'm just making a lunch salad for myself, I don't want to dirty any dishes or fire up the grill.
By the way, no, I don't have one of those handy dandy Foreman countertop grills, and no, I have no intentions of buying one anytime soon. And yes, my BBQ grill is charcoal only, and no, I do not plan on changing that either. Although I have a problem with cooking just one chicken fillet, I do not have a problem cooking up a whole mess of chicken breasts at one time and freezing them. Now, when I pack my salad for lunch at work, I pack a frozen cooked boneless breast in a separate container, and it's thawed by the time I need it for lunch. Easy peasy!!
If you have ever frozen anything, you already know that reaching into a bag of frozen chicken fillets and pulling out just one isn't easy peasy. Usually, whatever is tossed into the bag is frozen into one big lump requiring a chainsaw to carve off even a little piece. Since I don't like to waste, I don't put each piece in its own bag either. However, I've learned a little trick that will make taking just one piece of meat out of the bag a lot easier. I'll tell you at the end. I promise.
Prepping the Breast Fillets
Boneless, skinless chicken breasts can be pretty thick and too much for one meal. Slice the breast in half, making it thinner and reducing cook time. A thin, sharp blade works best.
Spread the chicken out in a baking dish and marinade with the sauce of our choice. Sometimes I use teriyaki, sometimes Italian dressing, sometimes nothing at all. Do what works for you. Allow to marinade in the refrigerator for several hours or overnight.
Either grill the chicken for a couple of minutes on each side or broil about 4 or 5 inches from the broiler element about 1 minute on each side. I prefer grilling or broiling for these breasts because you don't have to add any extra fat like you would for pan frying. Also, grilling or broiling allows me to cook all of the pieces at once.
Allow chicken to cool to room temperature or chill in the refrigerator for a couple of hours. This cool down keep the heat out of your freezer!
Spread chicken on a cookie sheet or metal baking sheet in a single layer. Set the pan in the freezer.
Toss the frozen chicken breasts into a freezer-safe container like a zipper-seal freezer bag. Place the bag in the freezer. The pieces should not stick together at this point. You'll be able to pull out as many pieces as you need.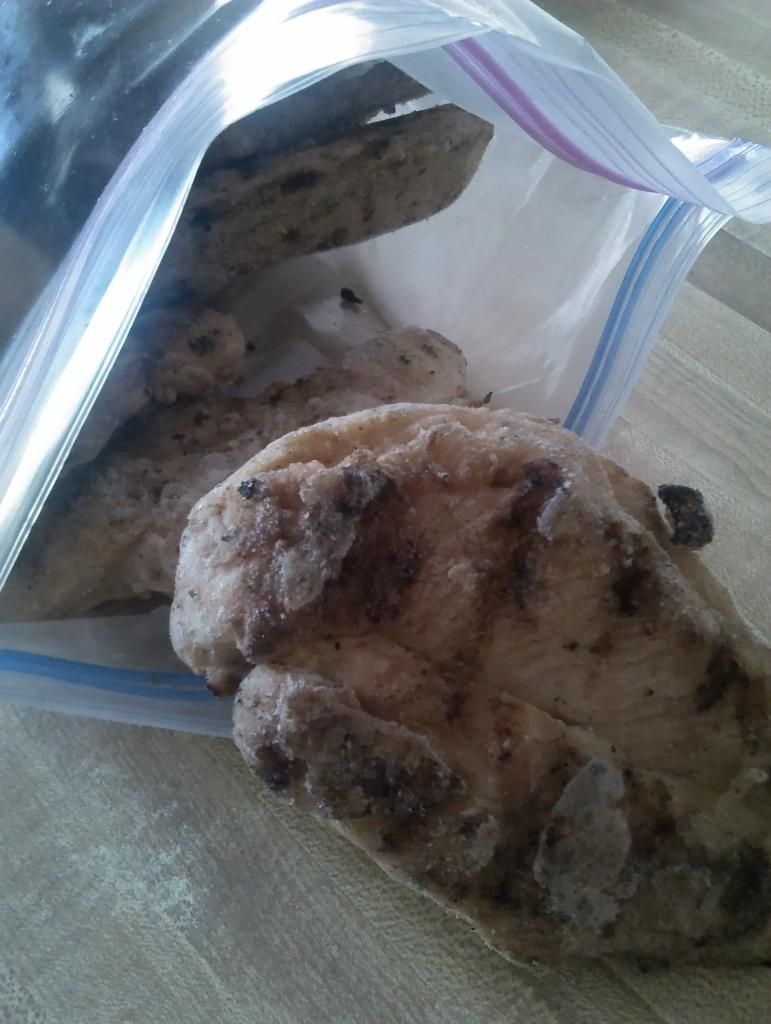 By the way, if you forget to take out a piece in the morning for your lunch, you can defrost it in the microwave. I don't use my microwave for much, but I have been known to thaw my chicken for one minute on high. It's usually ready by the time I've tossed my salad!
This method of freezing food separately first before bagging is useful for all kinds of different foods. Freeze cooked meatballs this way, and you'll have meatballs on hand for any size crowd. Just think how easy it would be to grab just a handful of strawberries or peach slices for your morning smoothie. Plus, you save on those freezer bags by being able to freeze large batches in one bag instead of as individual servings in separate bags! I'm all about less waste and using fewer consumable products!!
Thanks for stopping by! Because of the ugly list of ingredients and the ugly price tag, we don't buy lunch meat. However, a grilled chicken sandwich makes a great lunch! Just a thought.
Grace and peace be yours in abundance,